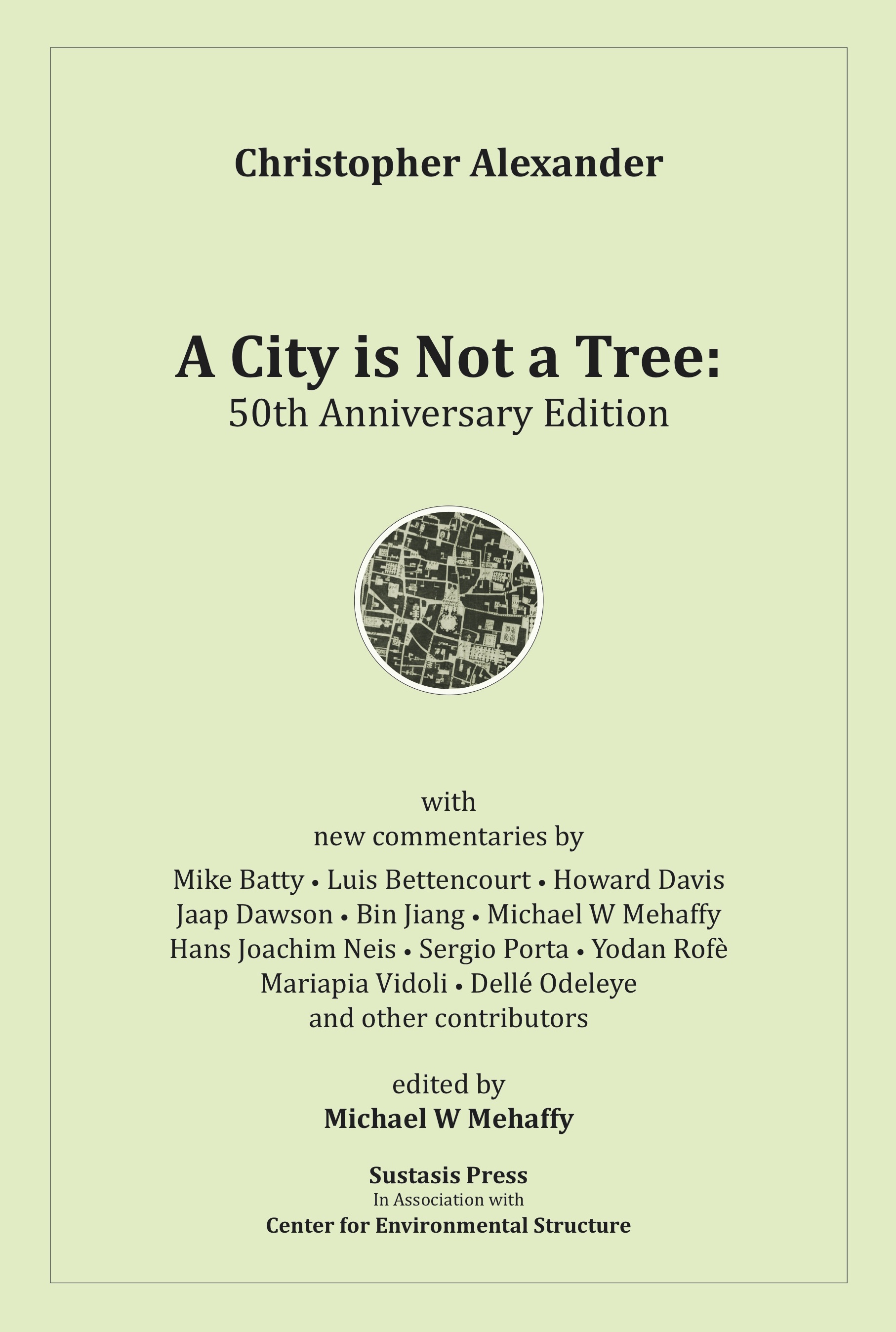 A City is Not a Tree: 50th Anniversary Edition

We are delighted to be able to bring this landmark work to a new generation of students, practitioners and theorists.

Includes the original classic 1965 paper, as well as important new commentaries and discussions from:

Mike Batty, Luis Bettencourt, Howard Davis, Jaap Dawson. Bin Jiang, Hajo Neis, Delle Odeleye, Sergio Porta, Yodan Rofe, Mariapia Vidoli, and additional contributions from Robert Campbell, Bruce Donnelly, Bill Hillier, Charles Jencks, Lizz Plater-Zyberk, Witold Rybczynski, John Worthington.

Ordering information for print copies:
From the printer: https://www.levellerspress.com/product/a-city-is-not-a-tree/
From Amazon.com: https://www.amazon.com/City-Not-Tree-50th-Anniversary/dp/0989346978
From Amazon.co.uk: https://www.amazon.co.uk/City-Not-Tree-Anniversary-2016-08-02/dp/B01K3IG7OG/
Or download the low-resolution PDF for free: http://www.sustasis.net/ACINAT-LR.pdf
PLEASE SUPPORT US IN THIS AND OTHER IMPORTANT PROJECTS.
We are grateful for your support, however modest! We are a registered 501(c)(3) non-profit in the USA and all donations by US taxpayers are tax-deductible. We are registered with GuideStar, an information service for non-profit transparency and accountability. For more information visit our Guidestar Exchange Member page.
You can make a donation conveniently via this link:

Or you can contact us directly to make arrangements for payments, or simply send a check to our address. Suggested donation is $25, but we are grateful for any amount!
Sustasis Foundation
506 E 9th Street
The Dalles, OR 97058
Email: sustasisfoundation at the gmail domain